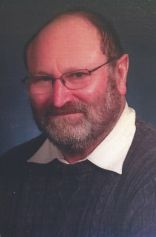 Erwin Bartlett
Entry Number 5
Year Inducted: 2017
Erwin has always had an interest and love for classic cars and other cars that may not be deemed as classic. As a teenager he would buy old cars that needed repairs or restoration and then proceed with the necessary work and repairs. These efforts reward him with improved automotive skills and a knowledge of how mechanical thing worked and operated. These important and useful skills would serve him throughout his life. Erwin rarely, if ever, got to complete any one project because his Dad did not have the same vision regarding classic cars as he had, and he would have to sell the work in progress in order to clean up the yard. Undaunted, he would immediately start over and begin a new collection. Only in later years was he able to bring a classic in need of restoration home and see it completed to his liking.
Erwin exhibited his automotive collection of cars and pickup trucks in Idaho, Nevada, Arizona, and Utah for more than 30 years at car shows and other automotive events. Just as important as the cars shows was discussing anyone's interest in the automotive arts, and the many conversations regarding restorations, the location of needed parts, and memories about the 'good old days' and their cars. He encouraged his son and grandson to participate with him and develop their own interest in classic cars. His grandson, Brennen, helped Erwin show his cars for many years.
Erwin was always willing to share ideas about restoring a vehicle and solving any related problem regarding finding needed parts, what techniques would produce the best results, and how to resolve performance issues. He was always available for any 'hands on' help as needed. He could spend hours talking about the beauty and the enjoyment he found in classic cars.
Erwin always encouraged classic car club participation and enthusiasts to participate in club shows and activities. He had numerous friends in clubs from Idaho to Utah that made it too hard to choose just one club, so he supported each club with his attendance, participation, and encouragement.
Erwin owned and operated his own business in auto mechanics. He repaired and maintained vehicles all his life. The mechanics of a fine tuned engine was his passion. Old or new vehicles did not matter. He enjoyed all of his clientele. They were his best friends and social life. He was often referred to as 'The Carburetor Man'. As a result of his passing, many of his clients have asked "Now where can I take my vehicle for work and repair?" Erwin always upheld the principles of honesty, fairness, and ease to work with. He will be always missed among those who knew him.
---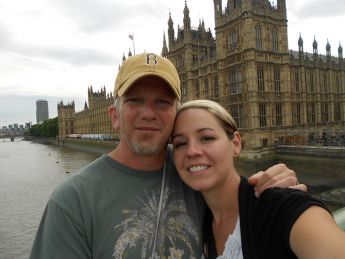 Scott and Courtney Clark
Entry Number 4
Year Inducted: 2016
Scott was born to a street rodding family, and at nine years old Scott's first classic car experience was an unfortunate incident involving his father's one-owner 1969 Camaro, a steep driveway, and a request to check the battery condition from his mother. Scott dutifully obliged by turning the key to start while the trans was in reverse resulting in the engine coming to life and the car picking up speed down the driveway, crossing the street and coming to rest against the neighbor's '69 Chevelle resulting in some extensive body damage to both vehicles. While no bodily injury occurred, only egos needed mending after the sheriff and fire department left the scene. Another event in Scott's life influencing his street rodding interests was his father's cousin, Frank. When he passed away in 2000, his extensive auto memorabilia collection dating from the 1960's came to Scott, piquing his interest in all things street rodding. Scott bought his first classic car in his teens which was the '69 Chevelle he had hit as a nine-year-old. Later he bought a '72 VW Cabriolet while serving with the Army's 82nd Airborne Division in North Carolina.
With a profound respect for all those who practice street rodding Scott and Courtney, married in 2010 on the Bonneville Salt Flats, and determined to do all within their abilities to promote street rodding and show others the varied street rodding interests and accomplishments of the part of those who participate in this activity. To this end Scott and Courtney took it upon themselves at their own expense to travel to car shows throughout Utah and beyond to photograph every car attending the various shows. This effort resulted in attending at least one show every weekend from early April to late October over a seven year period while taking thousands upon thousands of photos. Each photo was catalogued and indexed for easy identification. Owners of vehicles were also included if possible. The Thanks-to-frank website displayed the result of Scott and Courtney's work. This website also helped to familiarize a younger generation with street rodding and invite them into the street rodding family.
All vehicles attending the car shows were photographed. No favorites as to make, model, alterations, cost, or other factors were shown, but all were recognized equally. This approach has earned them great respect from all those who promote all the wonderful and varied forms of street rodding. Everyone they deal with comes away with the feeling that Scott and Courtney are genuinely interested in their vehicle and everyone who participates in our diverse hobby. Fairness and equality in their approach to documenting street rodding events has earned them their reputation for being accepting of the entire spectrum of street rods and rodders.
---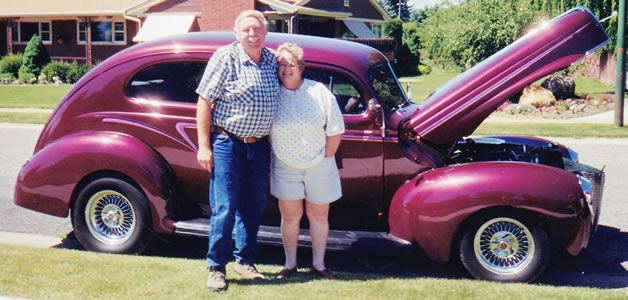 Jay and Vickie Kresie
Entry Number 3
Year Inducted: 2015
Jay grew up helping his father working on cars. They built their shop together which had three garage doors and was always full with car projects. Jay and Vickie have devoted many years in support of street rod related activities beginning with Jay's early involvement with drag racing a '48 Anglia in the late Sixties. Jay frequently invited friends over to his shop to help with preparing his Anglia and '34 Ford Coupe for races. By this means he helped anyone learn to work on hotrods and race cars. Many owe their initial interest and early experiences in street rodding to Jay while helping out as his 'pit crew'. Beginning in the 1960's and extending forward Jay owned numerous cars and had many interesting experiences with them, and was able to relate many stories based on his experiences. His depth of experience was evidenced by the fact he rarely told the same story twice. Jay owned his 34 Ford Coupe from the early sixties until the time of his passing in 2014, and had many other vehicles in his collection, and had many other parts for upcoming projects.
Jay was involved with the original group that organized the first Cache Valley Cruise-In in 1983, called at that time Logan's Run. Vickie served for many years as the treasurer and secretary for the Cache Valley Cruising Association (CVCA). Jay organized the CVCA Swap Meet held in conjunction with the Cruise-In and managed it for more than fifteen years. He loved the interaction with the people that the swap meet brought.
Following Jay's drag racing pursuit, he consistently maintained his involvement in street rods. Jay's final project was a beautifully crafted 1953 Plymouth Coupe Convertible as a gift for Vickie. With an eye out for future projects Jay had a sizable collection of useable components which included nearly all years/makes/model of vehicles. He also enjoyed collecting cars and passed his passion on to his children. Jay's automotive interest truly did not center on one make or type of vehicle, but encompassed every variety of automotive design. Jay was always interested in what street rod project others were working on regardless of what the project consisted of. He always had an eye out and knew where to find those difficult to locate body and engine parts for street rods that were so plentiful in bygone years. He could talk for hours about cars and had unsurpassed knowledge to share. Jay has always been supportive of bringing together persons interested in street rodding. With others Jay was a founding member of the Bridgerland Early Iron club, the first car club in the Cache Valley area formed in the late 1960's; and a member of the Cache Valley Cruising Association since its inception.
It has been Jay and Vickie's objective to reach out and be friends with everyone in the CVCA, and reaching beyond to anyone interested in street rodding. With Jay's extensive experience in hot rodding he could talk to anyone about their project and offer useful advice on where to find needed parts and what worked, or did not work for him in past projects. He and Vickie made everyone feel welcome and their help and involvement was needed and appreciated.
---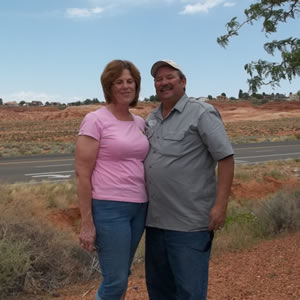 Joe and Janice Christensen
Entry Number 2
Year Inducted: 2014
JC Hackett, aka Joe and Janice Christensen, have raised the bar high for anyone who wants to be a contributor to the interests of street rodding. Known simply as JC among the street rod community for more than 30 years he is likely the widest known personality in the intermountain west specialty vehicle fraternity. JC has used the elements of kindness, respect, genuine interest, and love to promote the interests of responsible street rodding along with inviting others to participate with him and Janice.
It all started for JC with a 2 door '56 Chevy Bel Air sedan which he found in a junkyard and restored to "like new" condition. In attending local car shows and events JC discovered most local shows and events seem to lack an element of entertainment.
Combining his love of classic cars with his interest in "oldies" music he assembled a small public address system and offered to play oldies tunes from out of his '56 Chevy. From this early beginning JC and his sound system has become a fixture at many local car shows and cruise nights. JC and his sound system adds a touch of professionalism both in a wide variety of oldies tunes and the ability to provide commentary and needed announcements. JC continues to improve the sound quality and coverage so that his entertainment program more effectively establishes the proper atmosphere and background music suitable for a car show.
Along with promoting other upcoming car shows at events JC has a strong desire to promote selected charitable causes. After careful consideration and where his help can be productively used, JC contributes his influence to advance charitable causes, and putting forth the effort to make a difference. From children's charities to his current professional involvement in prostate cancer, JC believes changing just one life sets up many to change.
JC does this as a job, but has said "once this feels like a job, that's when I'll quit". He often donates some of his own funds to shows and gets as many of his family and friends involved to make sure each event gets good participation. JC also firmly believes that this should be a family hoppy, and has promoted this ideal tirelessly. He has been made an honorary member of many car clubs, and enjoys his involvement and many friends he has made along the way. JC interest in people of street rodding extends far beyond the events and fair-weather season by keeping in touch and helping out wherever he can. He never turns his back on anyone. He always remembers your name, and enjoys anyone stopping by his sound trailer just to say hello or discuss what they did on their car this year.
As an additional outreach to the street rodding community JC makes available through email Hacketts Chatter. This frequently posted informative e-newsletter painstakingly details recently past shows and cruise nights and makes each event sound like the "not-to-miss-event-of-the-year", and upcoming events are always listed with a description of planned activities. Just following Hacketts Chatter and the JC website make a person feel he is already involved in the car culture.
JC provides yet another invaluable service; letting us know when members of our street rodding community pass away. While this news is frequently difficult to express, JC handles it with compassion. His distribution is prompt and includes notes complementary to the person of interest.
---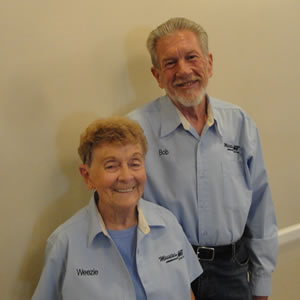 Bob and Louise Eames
Entry Number 1
Year Inducted: 2013
Bob and Weezie (Louise) Eames have established themselves as fixtures in the street rod and drag racing fraternities in the intermountain west.  Street rodding has not only been their hobby, but their love all their married life.  In 1959 Bob and Weezie got engaged in their '47 Ford Coupe, and raised their three children, now grown, in the street rodding hobby.  Bob and Weezie have donated their time for 33 years as founders and editors of the Mountain West Street News (MWSN).  This bi-monthly publication has brought and coordinated information regarding all car clubs and events in the Northern Utah area.  This publication has kept many abreast of local happenings in the street rodding community.  Notably, among their contribution is the annual Mountain West Street News Picnic which was founded by the Eames in support of the mountain West Street News.
Bob has served as the Utah NSRA representative for many years and hosted an NSRA Appreciation Day each year.  The Eames have organized several successful fund raising events for local street rodders in need of help, including the Wasatch Rods and Customs annual Christmas Hayride, which raises funds for local charities.Bob and Weezie have adopted all street rodders as their extended family.  In planning and assisting with many car shows, the Eames invite new street rodders to join in the activities and make sure that they feel welcome when they arrive.  Copies of the MWSN are provided to all new participants.  Appreciation is expressed to new attendees with an invitation to enjoy the street rodding camaraderie and activities.
The Eames have memberships in two car clubs.  Bob has been a member of the Stags Car club since 1967.  Bob and Weezie are longtime members of Wasatch Rods and Customs (WRCC).  Bob is also a lifetime member of the National Street Rod Association (NSRA).  The Eames support as many local club events and cruise nights as possible.  Weezie has been the secretary of the WRCC for many years.
The Eames have also contributed substantial time to the sport of drag racing.  Bob and Weezie were part of the management team of the old Bonneville raceway for a number of years and watched this sport grow here in Utah, and were part of the team of Jack "The Sheriff" Harris who started "Nitro Thunder" nostalgia drag racing in 2001.
Recipient's Statement:
We have been married for 52 years.  We try our best to do the right things.  Probably the thing about this sport we like the most is making and keeping all the special friendships we have made.  Street rodders are the most kind and loving people you could every meet and we have been so blessed to have met so many of them.  We are grateful for our many, many friends; so we must be doing something right.  Everyone knows that we are just a phone call away and willing to help anyone who needs any kind of help.