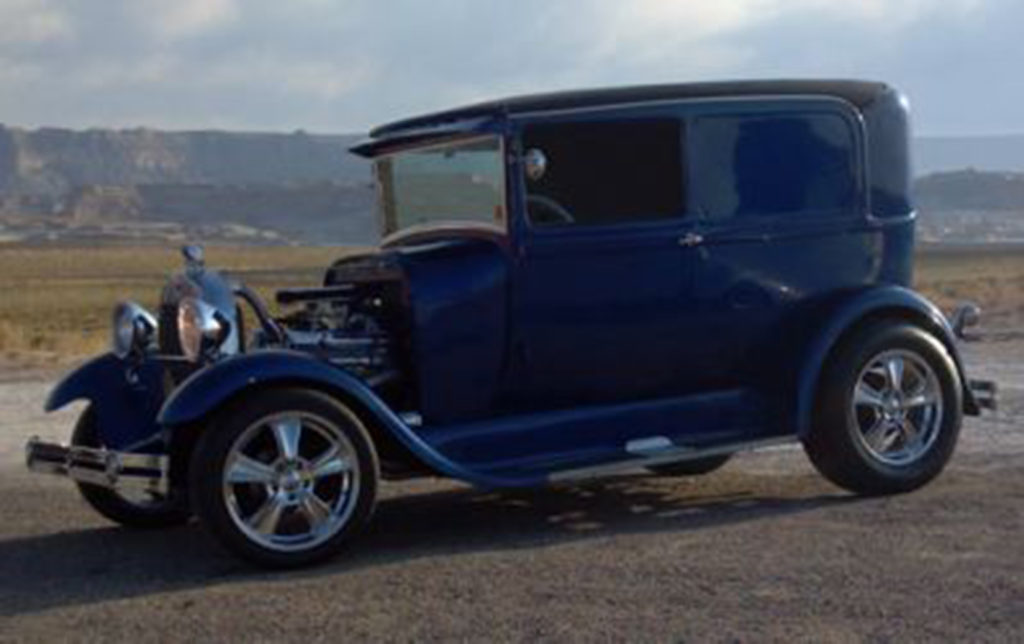 2012
Registered Cars: 868
Giveaway: 1928 Ford Model A Sedan Delivery
For 2012 the Cache Valley Cruising Association is proud to present this 1928 Ford Model A Sedan Delivery. Originally, we planned to give away a '30 to celebrate the Cache Valley Cruise-In's 30th anniversary, but we couldn't find one we liked, and JC Hackett steered us towards this Sedan Delivery, so I guess we're giving away a '28 to celebrate our 28th car given away…
Powered by a thoroughly chromed Chevrolet small block stroked to 383 cid, this rod really gets with the program! The motor is backed up by a TH350 automatic transmission. Up front is a Mustang II-based IFS with disk brakes and out back the Ford 9" rear hangs off a triangulated 4-bar and coil-over shocks.
The interior is beautifully finished in gray tweed, with raised accents in the interior panels. There is a pair of bucket seats up front but the rear cargo area is wide open to hold all your car show necessities. The steering wheel is leather, supported by a tilt & telescopic column. The side windows are power-operated and the windshield retains the original hardware, so it can be swung out for a bit of "old-time air conditioning". One of the less noticeable (But really cool!) features is the comprehensive tool kit built into the rear door.
The car is painted blue metallic with a little metal flake in the clear for some extra sparkle. With the help of our sponsors we've made this a uniquely "Cache Valley" car. Special thanks are due to Les Schwab for the tires and wheels, Alta Muffler for a custom exhaust system, HS Customs for paint touch-up, Atkinson Upholstery for new carpets & custom floor mats, A-1 Automotive & Performance for electrical & mechanical repair, CarQuest for the many parts used in those repairs, SignPro for the sponsor wraps, and Reflections Detailing of Utah for keeping it looking so sparkly!