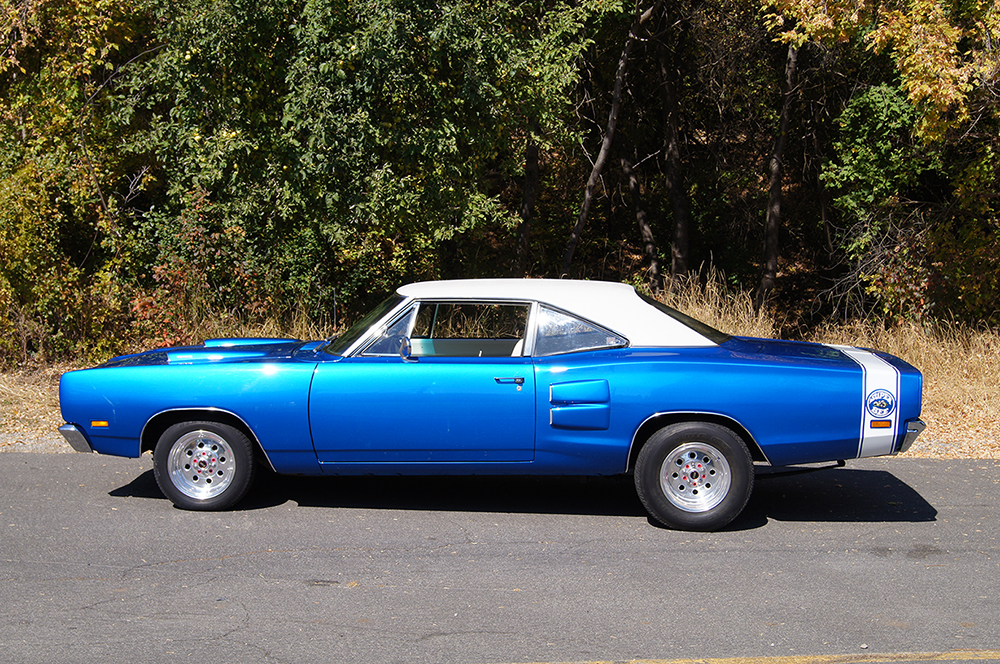 2013
Registered Cars: 876
Giveaway: 1969 Dodge Super Bee
This 1969 Dodge Super Bee was the Cache Valley Cruise-In's Grand Prize Giveaway Car for 2013. Equipped with the standard 383 Magnum engine and heavy-duty 4 speed transmission, it is a shining example of Mopar's take on the muscle car. The style is vintage 60's; the Ramcharger hood feeds cold air directly to the carburetor, but the optional side scoops are purely there for appearances' sake. The blue paint and the white vinyl top are well complemented by the white bumblebee stripe across the trunk and rear quarters. We already have some changes planned: Les Schwab will update the wheel & tire combo, Lynn's Audio & Video will do the same for the sound system, and Alta Muffler will make sure the "tunes" coming out the back are sweet, too! As time goes on, we expect to add other changes handled capably by our sponsors. Even if you bleed Chevy orange or Ford blue, it's about impossible to drive this Mopar missile without a silly grin on your face. Slide on in to the pristine white interior, grab the pistol grip on the end of the shiny chrome shift lever, and pound through a couple of quick gear shifts; now there's the cure for the summertime blues!